Service Level Agreement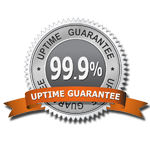 Media317 believes in uptime and reliability of your website and applications.  Your site security and reliability are important to us, because we now how vital you website is to you business.  Therefore, we have adopted the following Media317 Promise.
The Media317 SLA Promise is simple and it's something we stand behind and here is what we promise!
Quality Components
The Media317 Hosting Platform is built with high quality hardware, network providers, and the servers are stabilized and secured by seasoned system administrators.
Intelligent & Fast Acting Staff
The Media317 Support Platform will provide you with the most accurate technical answer in the easier to understand language possible. The support teams goal is to provide solutions to problems and go the extra mile.
Media317 Integrity
Above all things you will receive nothing less than utmost level of integrity in business from Media317.   The Media317 team has built a reliable infrastructure that we are very proud of.   When a problem occurs we will make every attempt to provide you straight answers that are both honest and timely!
The Media317 SLA Promise is simple. We despise unscheduled downtime and unless your the cause of the problem we will credit your account 1 day of free service for every 60 minutes of unscheduled downtime. There are no catches downtime means that your website doesn't load, email is broken, database is non-functional.
Our goal is simple – 100% uptime, all the time and on an occasion when an anomaly takes place we want to provide you the insurance and peace of mind that we are on top of the problem.