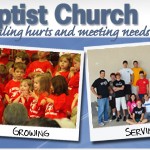 Media317 was contacted to redesign the header of Calvary Baptist Church of Columbus, Georgia.  They were preparing to do some changes to the overall look and feel of the web and felt that a new header was necessary for the change.  The objective was to create a simple design that reflected the look and feel of the church and provided them with a way to highlight different people or ministries within the church.
So, Media317 designed the header with a contemporary blue color scheme.  We added a light texture to the background to provide some depth and layering.  We took photographic images of the worship center and the bell tower and cut the images out of their respective backgrounds, enhanced the color and tone of the images, and layered them on either side of the header.
The church is using the terms Connecting, Growing and Serving as keywords for various aspects of their ministry.  We used those words as labels to "Polaroid" style photos that will rotate via a script when the page is reloaded.  This allows the church to keep several photos on the site as well as keep them current.
Overall the header brings a new and contemporary look that is more graphical in nature to the site.  If you would like Media317 to redesign your website banner or build you a complete site, please contact us at media317@media317.net or visit the support portal and submit a question using our ticketing system.  We look forward to serving you.