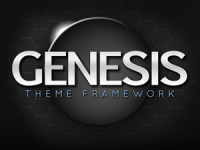 There are a lot of premium WordPress themes on the market, but none of them are as powerful, secure and SEO friendly as the Genesis Framework from StudioPress.
StudioPress is opening the door for a limited time to get access to all of their premium themes.  All 44 theme designs are being bundled together and made available at an incredibly low price.  This is for all current themes and all future themes, unlimited updates, and unlimited support!
What if the Genesis Framework, all 44 themes (plus all future themes), all the support, all the updates were available for $887.80 OFF what it would cost you to buy just the current themes?
Got your interest?
For a limited time, StudioPress is making their themes available for a one-time fee of $299.95!
This is a limited time offer and is scheduled to expire on January 31, 2012.  At which time the price will return to its regular price of $349.95.  Which is still a good deal, but why miss out on the better deal?
Also, since I use StudioPress for all my clients, I am able to help you get an additional 10% of the already low price.  That will save you close to another $30.  When you checkout, use the coupon code TEN and you will get the whole kit and kaboodle for less than $270.00!
Let Me Introduce You to StudioPress
StudioPress has developed one of the best design frameworks for WordPress.  They currently have 44 child themes that bring high quality design to your business or blog, right out of the box.  They are easy to customize and offer a level of security unmatched.
Here is a look at what you get when you purchase the Pro Plus All-Theme Package:
All the SEO, security, and support that comes with the Genesis Framework
44 current child themes, and all future child theme releases.
Multiple Page layout options for each theme
Quality change color schemes without touching a line of code
Logical navigation and category layout  helps your site readers get what they want . . . fast
Unlimited updates, domains you can use the themes on, and support (your not alone)
Samples:
It Will Never Be This Low Again
If you were to purchase each of the themes separately, you'd pay over $1,180, and worth every penny!
BUT . . . if you order the Pro Plus All-Theme Package before January 31, 2012, you can get 44+ themes, SEO ready framework, turn-key design, unlimited support, domains and sites  . . . all for one low price of $299.05.
AND . . . if you use the coupon code TEN at checkout, you will get an additional 10% off.  Almost $30 bucks stays in your pocket!
Click here for all the detail on the Genesis Framework Pro-Plus package and find out why it's the smartest way to build fantastic WordPress sites.