Here's What You'll Learn
1. Learn the Secrets of Opt-in Mail List
When people opt-in to your email list they are giving you permission to market to them. They have jumped through specific hoops and opted in to receive information from your business. You need the secret sauce to build a quality, responsive list.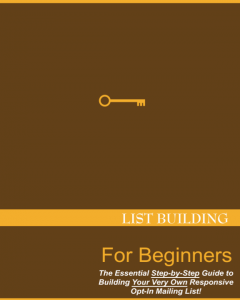 2. Learn the Four Crucial Things You Need To Do To Build Your List
There are four critical parts to making sure your email list building will work and be valuable to your business. Make sure your doing all of these or you will struggle. With a little patience, some strategy and these four things, you will start to build a good email list.
3. Here are Three Quick and Easy Ways to Build a Profitable List
If you have started a list and failed to see any revenue, don't give up hope. Here are the three quick and easy things you can do to turn your list into an asset instead of a liability.
4. The Four Ways To Get Your Subscribers to Trust You Quickly
We are naturally skeptical of email subscriptions. Spammers have conditioned us to develop extensive barriers and protections to keep our inbox clean. If you hope to have a list that is good for business, you must learn to develop trust with your subscribers. I show you four ways that you can get your subscribers to trust you very quickly.
5. The Three Things to Avoid When Emailing Your List
While there are so many ways to get people to subscribe to your list, there are also many things you must do to avoid people unsubscribing to your list. I will show you the three things to avoid to keep your subscribers happy and engaged. If you do not avoid these pitfalls, your efforts will be counter productive.