In our last lesson, Keywords are the Key, we said that relevancy, acceptable search traffic and commercial intent were minimum requirements for a keyword.  If you do not meet the minimum requirements, don't waste you time optimizing.
The Secret to Success
The secret to success with keyword research is not traffic.  The secret is targeted traffic.  I would rather have 1,000 unique visitors to my site that are searching for the goods and services that I offer, than 100,000 unique visits who have no interest what I offer.
Targeted traffic is significantly more valuable to you than just 'traffic', therefore you need to make sure you do not overlook relevancy with your keyword research.
Head Over to Google
We are going to demonstrate keyword research using Google's free tool in Adwords.  If you have an account with Google, log in.  If you do not, you can still participate.
Go to https://adwords.google.com/select/KeywordToolExternal
Start at the Beginning
In our example, we are going to assume that we are running a local web design company (which I do, in case you need web design work).  We want to find some keywords that would provide our company with targeted traffic for our services.
In the Keyword Tool we are going to start with our general keyword, "web designer."  Type 'web designer' in the 'Word or phrase' field and check the box "Only show ideas closely related to my search."  We want targeted traffic.  By limiting Googles suggestions to related terms, we improve our odds of finding relevant keywords.

On the left sidebar, under "Match Types," check the [Exact] box.  This will limit our numbers to searches that are specific to our search terms.
There are three different search types, broad, exact, and phrase.  Broad searches use your terms in any order and any arrangement.  So a search for "trout fishing" could yield results for trout fishing, fly fishing for trout, or ban trout fishing in Georgia.

The Exact search will only generate results using the exact term you entered.  A search for "trout fishing" could yield results for trout fishing only.  It will not include plural variations of your term.

The Phrase searches will include the phrase to generate results.  So a phrase search for "trout fishing" could yield results for trout fishing, trout fishing tips, rods for trout fishing, Georgia trout fishing, etx..  The phrase will appear exactly as submitted.
The Results
Notice that Google divided the term into two sections, the search term and keyword ideas.  The 'Search Term is a break down of our specific term, 'Web Designer."  The Keyword Ideas are generated by Google based on search patterns.  This second group is a great place to look for trends, ideas, potentially new or different terms.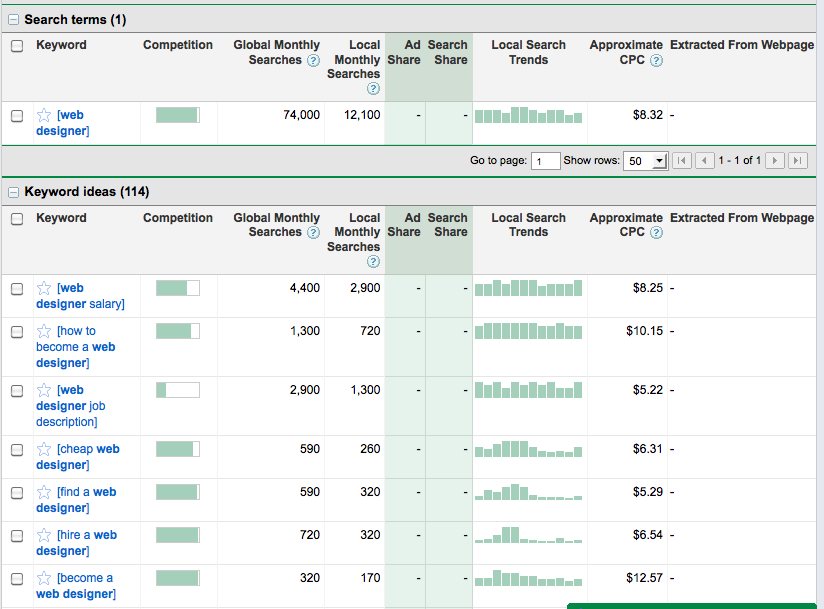 What Does It Mean?
The "Competition" column is showing relative competition for the term, the more green the more competitive.  Competition is a good thing when it comes to keywords.  A certain amount of competition is necessary because it helps identify a viable business term or niche.  We will discuss competition in a later lesson.
The "Global Monthly Searches" column tells us how many times that specific term was searched in Google globally.  Since we have selected Exact Match type, these numbers represent the fraction of searches that used this specific search term.
The "Local Monthly Searches" column tells us how many times that specific term was searched in Google based on our location.  This allows us to identify potential terms that would be good for our local market or another market we would like to reach.
The "Local Search Trends" column provides a graphical view of how the search volume changed of the past twelve months.  This becomes valuable because you can spot when terms are "hot" and when they are "cold" and spend time and money during the right time of the year.
The "Approximate CPC" column provides us with a real dollar amount that the average business or person is paying to earn the top position on the Google paid search results.  This becomes an incredibly valuable piece of information because it speaks to commercial intent.  Can you make money using a particular term?  This is a lesson that we will dive deeper into at a later time.
Sort Our Data
Let's sort our data according to Global Monthly Searches.  To do so, click the title and the data will resort with the most searches at the top of the list and the least searches at the bottom.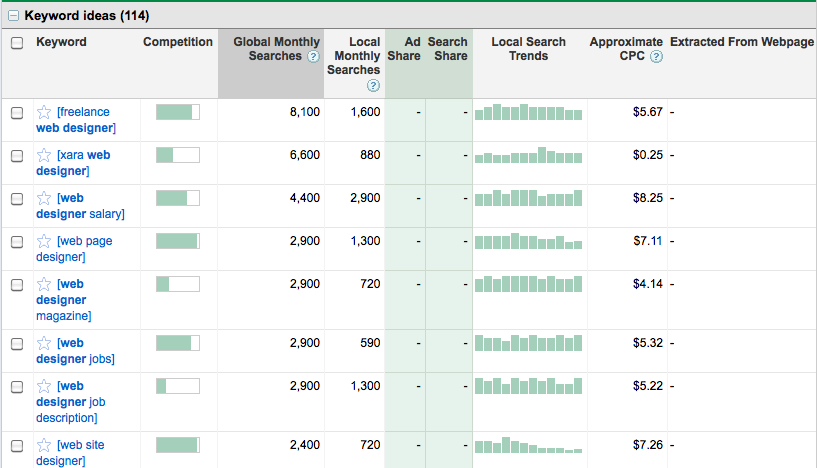 Look through these terms and see if there are phrases that seem relevant to your audience.  Which terms look like they might be good for your business?  Which terms seem related to your goods and services?
In this example we are trying to find terms that would be relevant for someone searching for a web designer.  We want traffic that is connected to a user who has a desire to hire a designer.
As you find them, add them back to the top of the page in the "Word or phrase" field under Find keywords.  We are going to let Google search and offer additional suggestions.
I have noticed the following terms on the list that have relevance to our web designers business:  hire a web designer, find web designer, and freelance web designer.  I have added them to the list and clicked Search.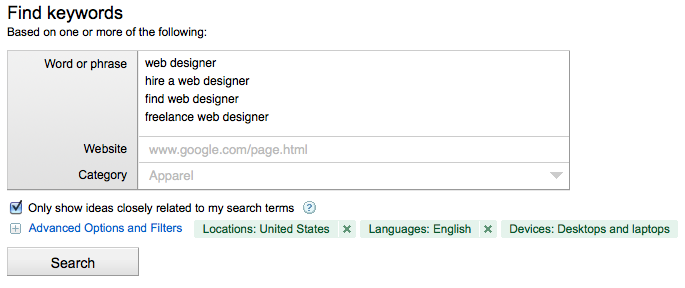 Another important observation is that there are numerous terms with cities attached.  I noticed terms like 'web designer Atlanta', 'las vegas web designer', 'miami web designer', etc.  This is good for local business!
The Money is in the Long Tail Keyword
If you will notice, the term 'web designer' is receiving 74,000 searches globally and the competition level is very high, close to 100%.  This single, short tail keyword would be difficult to get the number one position in Google.
It is a good search term, but to spend the time and energy trying to get traffic for that broad of a term might prove to be unprofitable.  And since we are looking to conduct business and make money, it would be better to find more relevant terms using long tail keywords.
Look through the list offered by Google for longer phrases.  Phrases that seem to be specific.  They will usually have fewer searches, but the result is highly targeted searches.  Generally speaking, a long tail keyword is going to convert better than a short tail term.  So even if it doesn't have as much traffic as your more competitive keyword, 1000 visits for long tail phrases could possibly generate more traffic than 10,000 or even 100,000 visits for more common, but less targeted phrases.
Review the List for Potential Money Machines
Looking through the list, I have found two phrases that look like they have potential, 'hire a web designer' and 'find web designer.'  I need to evaluate whether these terms would be a good fit for my website.  Would these terms yield good results in search results?  Can I get to the number one position for either term?
I need to spend some time evaluating the value of the term for my business and its relevancy to my site.

Six Questions of Relevance
These six questions will help you evaluate the relevancy of the long tail phrase.  Answer 'yes' or 'no' to each question for each term you have selected from your Adwords search.
1.  Is the searcher happy our site came up during their search?  Yes or No.
What you are testing is search results relevancy.  To do a quick test, go to Google and search for the term you are evaluating.  Let's test 'hire a web designer.'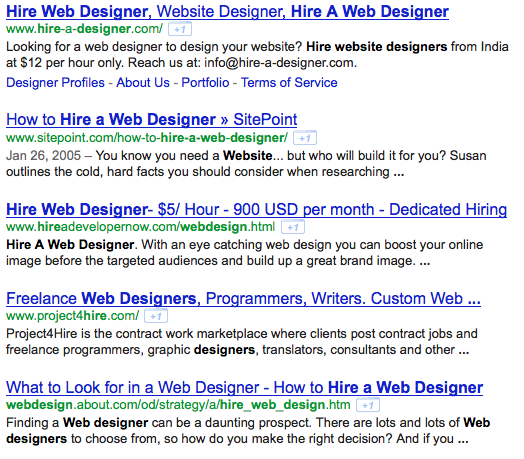 When you look at the search results, would your site be expected?  Does it seem to match the type of sites that Google is listing?  Would a visitor be happy they found your site if they found it using this term?
2.  Does our website resolve the searchers question or solve their need? Yes or No.
You are checking to see if your site actually solves a problem or answers the question being posed by the search term.  If the visitor was searching for 'hire a web designer' and they found your site in the search results, does the site solve that problem?
3.  Does a good landing page for this term exist or is one being created on the current website? Yes or No.
When a visitor clicks a search result, they have certain expectations about the page they are visiting.  If they are looking to 'hire a web designer' and they land on a page that talks about facebooks new layout change, they will not stay around.  There must be a landing page that is relevant to the search term for your visitors.
4.  Will this term or phrase sound "right" on your web site?  Yes or No.
If you have a website about social media and how Facebook is changing their profile page to frequently, a page about web design would not make sense to the visitor.  The terms need to consistent with the over all website.  The home page, blog post, and about me page need to be connected so your visitors will feel "safe" when they land.  After all, would you hire a web designer who only talked about social media?
5.  When I do a Google search for the term or phrase, do the results look like my type of company?  Yes or No.
We are testing for relevancy.  If you are optimizing for the term 'hire a web designer' and the sites that are listing in the top positions are significantly different than your company, then you are not relevant.  Your company site should match the type of sites that are currently ranking for this term.
6.  Would the term result in conversion? (Would the person who would search on this term likely end up taking the action you want them to take?) Yes or No
The goal with a search query is to generate a conversion.  That could be a simple as reading your post, opting into your email list or making a purchase.  Do you see a relationship between the search term and conversion?
And the Score Is. . .
Once you have completed this analysis, give your long tail keyword a score.
If you answered 'Yes' for all six questions you get a 100%.  Best case for relevancy
If you answered 'Yes' for 5 questions you get a 95%.
If you answered 'Yes' for 4 questions you get a 75%
If you answered 'Yes' for 3 questions you get a 50%
If you answered 'Yes for 2 questions you get a 25%
If you answered 'Yes' for 1 question or less you get a 0%
Any term that scores a 75% or better represents a term that has an acceptable level of relevancy.  This is a term that you would potentially want to use for optimization.
The Next Step
Now you will have a few terms that are targeting traffic for your specific product or service.  The keyword has proven to be relevant to your site and offers potential value for your business.
The next step is to evaluate the search traffic.  There needs to be an acceptable level of search traffic for our terms to justify spending our business sweat equity optimizing for the term. We will look at how to determine search traffic and begin to isolate potentially profitable keyword terms for business.
P.S.
Did you find this page via Twitter or a link from a friend?
This lesson is one in an e-course on the Basics of SEO. It covers the cornerstones of basic SEO.