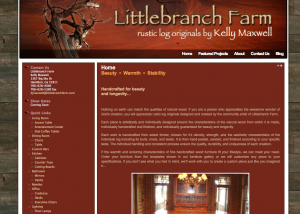 Media317 was given the opportunity to redesign the website of Littlebranch Farm, a small business in Hamilton, Georgia that makes rustic log furniture.  They are master craftsmen and have had furniture highlighted and displayed all across the country.  They came to Media317 with the goal to freshen and redesign their site to better reflect their core business and all for easier content management.
We provided Littlebranch Farm with easy content management by building the site on the WordPress platform.  By providing them with a stable, simple to use platform that is easy to expand and develop as the business grows, Media317 was able to provide Littlebranch Farm with the perfect solution.  They are now able to manage their content, upload images and provide real time information about their products without having to incur monthly maintenance charges.
If you have any web design needs, please contact Media317 at 706.888.8659 or via email at asmith(at)media317.net.