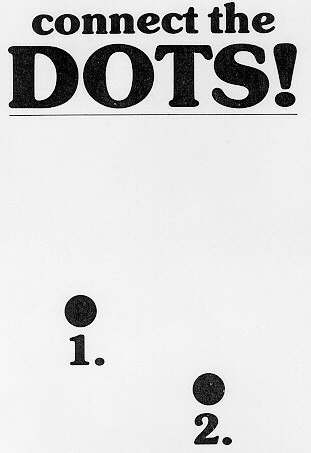 Building  your business online can be a very difficult and frustrating task.  There are so many options, so much advise and so much noise that it can be difficult figuring out where to begin.  The internet is a BIG place and finding a way to build your business without loosing you way is the purpose of this series.
Connecting the Dots
My son loves doing connect the dot puzzles.  He sits down with crayon in hand and begins at the dot numbered one and moves through them sequentially until he finally completes the image.
When he first started doing them, he didn't really understand how they worked or what to do, so he never ended up with a finished image.  As we taught him his numbers and he began to understand the process, he has become much better and actually enjoys "drawing" his pictures.
Knowing where to start
If you are trying to start a business online or bring your "brick and mortar" business to the virtual world then you probably have found yourself trying to connect the dots.
If you start at the wrong place or move along in the wrong order, odds are your not going to get a clear, completed picture.  Your business will not be successful.  You must have clear direction to finish with a clear picture.
Below are seven steps to building your business online.
The purpose here is to provide you with a good framework and logical steps to move from beginning to success.  As the philosopher Yogi Berra once said, "If you don't know where you are going, you might wind up someplace else."  This is a simple but provable series of steps that will help you connect the dots to build your business.
7 Steps to Building Your Business Online
1.  Knowing Your Ideal Customer
2. Build a List
3. Create a Blog
4. Create a Product
5. Social Media Sharing
6. Optimize
7.  Feed the Cycle