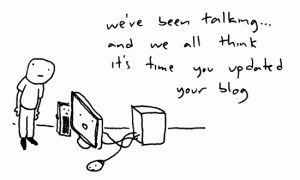 If you own a small business and are not running a blog on your website, you may be missing a lot of potential business.  One of the key elements of quality marketing is getting people talking about you and your products or services.  This social communication, whether online or in person, is critical for growing a successful small business, it builds likability and trust.  The quickest way for you to be involved in that conversation is through your own company blog.  Every small business should be blogging!
Why Blog?
– It makes it easy to add regular content to your website.  The saying "content is king" for the web is only valid if the content is GOOD content.  By blogging regularly, you are providing your clients with high quality, informative content on a regular basis.  This will help build trust and loyalty, two factors of quality marketing.
– Gain exposure in your local community.  By using using your blog to promote local events that relate to your core business, you help generate local exposure that is valuable for your small business.
– Obtain the ever elusive SEO goals.  Blogging is a great way to improve organic SEO (Search Engine Optimization).  For various reasons, search engines like Google and Yahoo, love blogs.  Blogging regularly for you small business will have a positive effect on your ranking and site traffic.
– Continually writing blogs for your site will improve you ability to SELL your product and services.  Because you are having to focus your attention on clearly communicating your business message in writing you will get better at communicating to your clients.  Writing will help your business grow.
– Establish yourself as the local expert.  By writing blogs for your small business, you develop a community of people that begin to trust you as the expert.  This is valuable for marketing your business.
How to get started Blog?
If you already have a website, your hosting service should have blogging software like WordPress already installed for you to use.  If you do not have a website, we offer a hosting service that will have you blogging in no time.  Check out our hosting plans and services that we offer and let Media317 get your small business blogging today.
What are some reasons you blog?  Share your thoughts with others.