Media317 and Untamed Media Group have teamed up to create an exciting new platform for Columbus area residence. It's called Fountain City Square and it is a unique blogging platform designed to prove our neighbors a way to communicate and connect with one another about the community in which we live.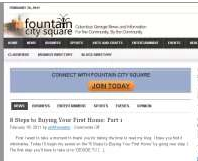 Blogging is nothing new and there are many platforms to choose from, blogger, blogspot and wordpress to name a few. They all are great platforms, but they do not provide a simple way for information centered around a single community to connect. That is what Fountain City Square aims to do. It is a simple blogging platform designed to provide a central location for all news and information related to our great town.
So how easy is it to create your own blog?
Let me invite you to check out Fountain City Square and try it out. Join the community! You submit your email address and create a blog name and description. Fountain City Square will send you an email verification, and you will be blogging in minutes. Enter, Submit, Create. It's that easy.