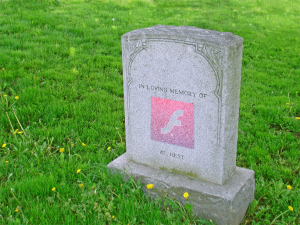 Adobe Flash is no longer a viable web development tool.  With the development of HTML5 standards, CSS3 advancements, and the adoption of javascript, Flash is an antiquated web tool
In April of 2010, Steve Jobs published an open letter announcing Flash as a "has been" a "relic" in a new era.  He indicated that Flash would be supported on any of Apple's mobile devices.  It was a flash point!
It turns out that Steve was right on the money.  Only 19 months later, Adobe announced that they were going to be turning the attention to Flash development for PC's and focus on developing HTML5 tools for web development.
Twitter Chatter
I bet it's fun to revisit posts where Adobe employees moan about Steve Jobs moving their Flash cheese. Angst Chowder.

— Nathan Bowers (@NathanBowers) June 29, 2012
Somewhere, Steve is laughing about Adobe dropping Android Flash support. Unless I'm right and there's no afterlife.

— rstevens ? (@rstevens) June 29, 2012
Adobe methodically and consistently is driving new nails in the Flash Player's coffin: http://t.co/IsVeKXOd #adobe

— Yakov Fain (@yfain) June 29, 2012
The nail in the coffin of Flash for mobile was announced today, June 28, 2012, that Flash will no longer be supported on Droid devices.  Beginning August 15, 2012, Adobe will disable fresh installs of Flash.
"Beginning August 15th we will use the configuration settings in the Google Play Store to limit continued access to Flash Player updates to only those devices that have Flash Player already installed. Devices that do not have Flash Player already installed are increasingly likely to be incompatible with Flash Player and will no longer be able to install it from the Google Play Store after August 15th."
What Does This Mean?
If you have a website that is built with heavy Flash elements,  you are loosing a significant amount of traffic.  The number of mobile devices that will be able to view your content has just been reduced.  Going forward, all tablets and phones, regardless of OS will not be able to access the flash components of your site.
Mobile is the next evolution in web.  If you do not have a website that is mobile friendly, you will begin seeing a reduction in site traffic.  I can help!  Media317 is a web design and development business and we can help you  become mobile friendly.
What do you think?  Are you glad to see Adobe catch up to current web standards?  Voice your thoughts in the comments.