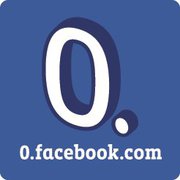 For Facebook users who do not have a data plan with their wireless carrier, accessing their Facebook account has been impossible.  Until now!  Facebook has just launched a new way for people to access Facebook anywhere, anyplace, and at anytime: 0.facebook.com.  It is a new mobile site that includes all the key features of Facebook, but it is optimized for speed.
When using the mobile internet, we are faced with two main challenges – speed and cost.  Either access to the internet is too slow to enjoy its use or the data plans offered by wireless carries are cost prohibitive. 0.facebook is designed to address these two challenges.
50 mobile carries in 45 countries and territories have already made 0.facebook available to their subscribers with ZERO data chages.  The list is growing.  Chances are, if you are in the US, your carrier is already on the list.
The new site has been developed with the following two main attributes:
Speed – 0.facebook.com is FAST: 0.facebook includes all the key features of the standard mobile site, such as status updates, news feeds, like or comment post, just to name few.  To view photo's or video would tap into your carriers regular data fees.

FREE – 0.faceb00k.com for ZERO: Thanks to work with mobile carries, facebook users can access 0.facebook without having to incur any data charges.  It is completely FREE.  People will only pay if they view photo's or leave the 0.facebook and browse to other sites on the mobile web.
Do you find this exciting?  Would you use the 0.facebook.com on your mobile device to not have to pay for a data plan?  What do you think of Facebooks new service?