The use of smartphones to access your website is growing at an increasing rate.  As of September 2012, 45% of Adult Americans own a smartphone and 25% of Adult Americans have a tablet device.  The number of web users on mobile ready devices is growing FAST.
If your website is not mobile friendly, you will lose visitors.  According to Google Research, 72% of mobile users say that it is important that websites are mobile ready.
This is why we strongly recommend all small business owners make sure their website is responsive and will work on all mobile devices.
What Is Responsive Website Design?
Besides being recommended by Google, responsive web design makes sure that your website will adjust to the screen size of your browser.  The information, images, text will move and adjust as your screen size changes.
This means that when a visitor hits your site on a tablet in portrait mode, the site will adjust to fit the screen.  When they rotate the tablet, the site will adjust and expand to fill the screen properly.  The images will resize and the copy will rearrange to maximize screen space.
The benefit is that your user can experience 100% of your website without having to zoom in or out to see your site.  The website is designed to respond to browser size.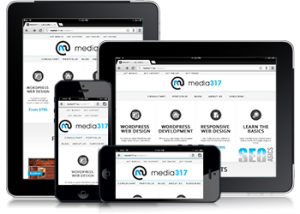 Any Device, Any Orientation
Using CSS and modern HTML5 practices, you can style a page to adjust according the screen or browser size.
Why You Need a Responsive Website

User Experience:  A website that is designed for mobile is best for your site visitors.  The site will give your visitors the best possible experience while delivering 100% of your site content.

Social:  When sharing links on social networks, having one URL that works on any device is better for site visitors.

SEO:  One URL for your content reduces the risk of duplicate content penalties and increase link value.  Page rank will improve as visitors navigate your site on their mobile device.

Development:  You automatically reduce the cost of development.  The traditional method of developing a standard and mobile site are no longer needed, cutting your cost in half.

Maintenance:  By having a single site that functions well on any device, you reduce the amount of site maintenance significantly.

Analytics:  Google Analytics provide you with a clear and total picture of your site traffic.  Instead of segmenting everything into standard and mobile, you get all of the data together.
Excellent and timely service. Media317 listened to our needs and worked above and beyond while customizing a solution to fit our budget. The service before and after the project have been outstanding. We would not hesitate to use media317 again.