If you use MailChimp for your email marketing efforts, you need to have an opt-in form on your site in multiple places.  One primary location is the top of the sidebar.  This should be prominent and easy to find.
To add the Mail Chip form, log into your account and go to 'List.'  Select the list you want to add to your page by clicking 'View List'.

Click on the 'For Your Website drop down and select 'Sign Up Form Embed Code.'
You will have three options for how your form will display.  Select the form you want and make any necessary adjustment to the form using the drop down box.
Once the form is correct, copy the embed code.  This will be added to your site in a text widget.
The MailChimp embed code has several div that can be managed by your CSS.  Simply add some style information to your style sheet and the form will look customized for your site needs.
Now that we have the embed code, log into the Admin of your WordPress website and go to Appearance/Widgets.  You will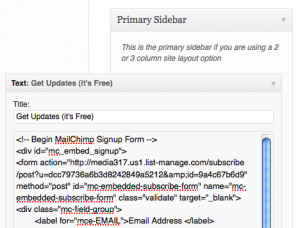 need to add a text widget to the appropriate widgetized section in the sidebar.  Best practice is to have the sign up form at the top of the sidebar.  There are a few other ideal location, but we will address those at a later date.
Paste the embed code into the text widget.  Give it a compelling title, something that would compel a visitor to subscribe to your email list.
Refresh your website to ensure the changes have taken effect.  Now your Mail Chimp email for will be at your specified location.