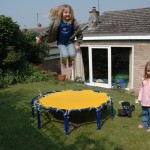 Question: Why is my bounce rate so high?
Answer: You have less than 10 seconds to grab your users attention. Pages that postion the value proposition early, can keep the users attention longer and reduce bounce rate.
The Study
A recent study tracked page visit duration of over 200,000 different web pages from over 10,000 visits. As they analyzed the data, they discovered a negative correlation between the time spent on a page and the probability of a visitor bouncing.
NERD ALERT:

Their results confirmed a negative aging Weibull distribution. A Weibull distribution is an engineering reliability measurement looking at time-to-failure for components. A negative aging indicates that as time progresses, the component is less likely to fail.
The conclusion of the research is that the longer a visitor is on your web page, the less likely they are to bounce. To reduce your bounce rate, you must keep your visitors on your site longer.
The data clearly shows that a visitors likely hood of staying on your site dramatically increased past the 10 second mark. You have just 10 seconds or less to capture your audience. Otherwise, they bounce and you loose traffic.
What You Need To Do
The data is quite clear in that you need to make sure your efforts to attracted site visitors will go to waste if cannot keep them past 10 seconds. This is the threshold. Can you keep your site visitors on your site for at least 10 seconds? Here are three tips to help increase your time.
Use highlighted list, headings or blockquotes to highlight the key pieces of information.
1. Have A Clear Benefit
Make sure that you clearly state the value of your content early. Make sure your headline is clear and compelling. Make sure your opening paragraph is clear and direct. Don't get to fancy with your writing that you miss the opportunity to capture your audience. Use the inverted pyramid method when writing to increase the time a visitor is on your page.
2. Include Graphics and Video
An interesting graphic that catches your visitors eye can cause them to pause for a moment and linger. Use graphics strategically, have a reason for them to be included.
Add your image or graphic a paragraph or two into the page. By placing it so that the top of the graphic is above the fold, your encourage your visitor to scroll. Scrolling causes them to linger and once you pass the 20 second mark, they will more than likely hang around.
3. Make it Simple to Scan
Make sure your content is formatted in way that if a visitor were to scroll and scan your page, they would still get the bulk of the information. Use highlighted list, headings or blockquotes to highlight the key pieces of information.
The number of visitors that are reading every word of your post is dwindling. People are scanning, getting the information and heading on to another page. Make the information easy to consume with quick scans.
4. Quality Site Design
Your site visitor is going to make a snap decision about your content based initially on your site design. It is true that content is King, but site design is the Queen. If you want to keep visitors on your site for longer than 10 seconds, you have to get them past the design shock.
The Bottom Line
According to the data, the bottom line is to get your audiences attention and clearly communicate your benefit within 10 seconds. Assuming your reader is able to read 200 wpm, they will be able to read about 33-35 words in 10 seconds. And since the majority of site visitors are scanning and skimming content, you really need to be able to capture their attention in less than 100 words.
The 10 second mark is the goal. Keep your visitors on your site for 10 seconds and your bounce rate will drop!