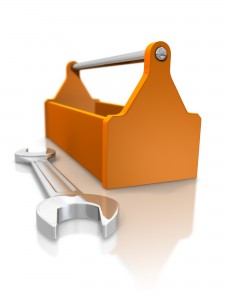 Are you ready to tackle your business's next internet marketing campaign? With the constantly changing nature of the internet, and the tools used to market on it, any online marketing campaign can prove a daunting task for even experienced marketers. But don't let that discourage you. There are plenty of tools available that will help you make your next campaign a successful one.
The following five tools will allow you to build, create, socialize, analyze, and report on all facets of internet marketing. Using them in tandem can give you a superior overview of any marketing campaign. Even better: all the software comes with a free trial, so you can get an idea of how they can work for you without laying out a dime.
1. Raven Tools
An internet marketing campaign does your business no good if you can't keep track of its effectiveness. If you're running just one type of campaign, that might not be a problem. But as you start to combine social media, SEO, link building, and PPC into a cohesive strategy, you might find it difficult to determine how these facets interact with one another. Few tools allow for monitoring across these different types of campaigns.
Raven Tools is one such application. It provides easy management for link building and PPC campaigns, including custom reports based on the criteria that matters most to your specific business. In addition, it provides a number of research tools, such as keyword rankings and social media monitoring terms, which can point you in the right direction.
The ability to research, monitor, analyze, and report is the key to a free-flowing, adaptable marketing campaign. Raven provides those for all facets of online marketing.
2. HootSuite
Social media has become a backbone of many small business marketing campaigns. With natural audiences already using social networking tools, businesses can insert themselves into the conversation, winning new customers along the way. Social might be a more natural means of marketing than traditional ad campaigns, but it still needs to be managed and tracked. With all the social media outlets available, that can become a burden for any organization.
Hootsuite's social media management tools brings all major social media outlets under a single umbrella. No more using multiple browser tabs to monitor Facebook, Twitter, Google+, LinkedIn, Foursquare, and the myriad other sites. Hootsuite lets you manage the message you spread through these channels, review correspondence with customers and prospects, and analyzes the campaigns you run. It even lets you schedule messages, so you can let people hear it when they'll be most receptive.
Since social media marketing is a relatively new aspect of internet marketing, it is volatile territory. What works now might not work tomorrow. HootSuite's management tools allow companies to make quick adjustments to their social campaigns, so when the environment changes so can your company.
3. QuickBooks
While large corporations can afford voluminous accounting departments, small businesses have no such luxury. Unfortunately, accounting for small businesses is just as important, and perhaps more important, than accounting for large corporations. How can small businesses keep up? With efficient web-based tools that provide all the essential elements of accounting, leaving the heavy features for the corporations that need it.
QuickBooks, the Intuit accounting software, has long been a business standard. Even small businesses have regularly purchased it and used it to manage invoices, payroll, and other accounting needs. Now Intuit is offering QuickBooks as a web-based, subscription program. It provides the nitty gritty that any small business needs.
No one wants to spend a lot of money to manage their money. The web-based QuickBooks option lets businesses control that cost. Instead of spending multiple hundreds of dollars, up front, on QuickBooks software, small businesses can pay a limited monthly fee to get all the features crucial to their accounting needs.
4. WordPress
Regular readers of the Media317 blog knows Alan's affinity for WordPress content management software. At the attractive price of free, and with a large community for support, WordPress has become the industry standard. As if the software itself wasn't enough for any small business's content publishing needs, WordPress is also host to hundreds of custom plug-ins, many of which prove helpful for small business websites and blogs.
Thankfully, Alan has a whole category of useful WordPress articles. Check them out to get an idea of how you can make WordPress work for your specific business.
5. Scribe
Much as we might wish, merely installing a content management system does not make it any easier to actually create the content. Further to our dismay, quality content is not easy to come by. There are many variables to take into consideration, and missing even one element can jettison an otherwise well planned content marketing campaign. If only there were a tool that let businesses optimize the content they publish.
Apparently hearing that call from small businesses everywhere, Copyblogger Media has released software that allows small businesses to create content that works. Scribe is one of the most powerful content creation tools available today. It not only helps optimize for SEO purposes, but also has tools that optimize for social purposes. By incorporating research into what gets shared and liked in social media channels, Scribe lets businesses create well-rounded content that will appeal to all types of readers.